Blue Hills Regional Non-Traditional Vocational Students Network at Girls in Trades Conference
Blue Hills Regional Non-Traditional Vocational Students Network at Girls in Trades Conference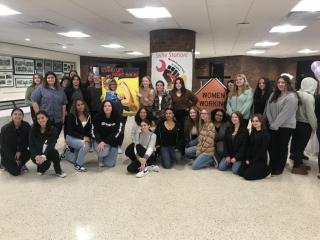 Superintendent Jill Rossetti is pleased to announce that several Blue Hills Regional Technical School non-traditional students had the opportunity to attend a recent Girls in Trades Conference.
On Wednesday, Nov. 9, 30 non-traditional vocational students attended the annual Girls in Trades Conference at Local 103 in Dorchester hosted by Massachusetts Girls in Trades.
As part of the conference, female students who are in a career and technical education (CTE) program in a field that is considered "non-traditional" for their gender were able to meet and network with other women in businesses and various unions to discuss working in trades.
"Our students were so energized after leaving the conference," said Non-Traditional Co-Advisor and Co-op Coordinator Kim Poliseno. "The girls talked about ways to promote more students choosing a non-traditional shop after exploratory."
Added Non-Traditional Co-Advisor and Guidance Counselor Sarah Titus, "MA Girls In Trades always does a great job of providing a variety of tradeswomen for our students to talk to. These tradeswomen present a real picture of what it is like to work in these industries and the students get a firsthand chance to ask all their questions to a woman in the field."
At Blue Hills, the Non-Traditional trades for females are Construction, Auto Collision, Auto Technology, HVAC, Metal Fabrication, Electrical, Electronics, Drafting/CAD, Engineering, Culinary Arts, Criminal Justice and Computer Tech. The Non-Traditional shops for male students would be Early Education and Care, Health Assisting, and Cosmetology.
About Massachusetts Girls in Trades:
Massachusetts Girls in Trades was launched in 2015 by a partnership of educational, governmental and union organizations with a shared goal of supporting and encouraging female career and technical education students and alumnae to pursue careers in the building trades. The group's mission is to help female students in middle school and high school — as well as recent high school graduates — to learn about and start careers in high-paying, high-skilled careers in union construction trades. These are careers that they might not ordinarily consider, either because they simply don't know about these opportunities or because they have been led in another direction due to societal pressure or stigma.