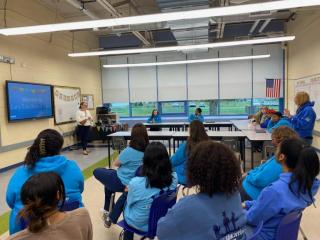 Superintendent Jill Rossetti and Vocational Director Michelle Sylvia are pleased to announce that Blue Hills Regional Technical School hosted a successful "reverse" career fair last week for its students.
The "reverse" career fair was held on Monday, Oct. 17 during regular school hours. Over 100 people from approximately 60 companies visited the school to attend this unique career fair which was a concept imagined by Co-op Coordinator Kimberly Poliseno.
Poliseno came up with this idea after she noticed that during a traditional career fair, students weren't visiting tables aligned to their skills thus potentially missing out on opportunities. For example, some students might not have approached a healthcare company believing it was only for students in healthcare-related fields not realizing that the company could also have open positions in their Integrated Technology or Facilities department for which they are eligible.
With this idea in mind, Poliseno reimagined…