Blue Hills Regional Technical School Hosts Successful 'Reverse' Career Fair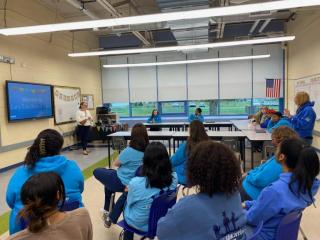 Superintendent Jill Rossetti and Vocational Director Michelle Sylvia are pleased to announce that Blue Hills Regional Technical School hosted a successful "reverse" career fair last week for its students.
The "reverse" career fair was held on Monday, Oct. 17 during regular school hours. Over 100 people from approximately 60 companies visited the school to attend this unique career fair which was a concept imagined by Co-op Coordinator Kimberly Poliseno.
Poliseno came up with this idea after she noticed that during a traditional career fair, students weren't visiting tables aligned to their skills thus potentially missing out on opportunities. For example, some students might not have approached a healthcare company believing it was only for students in healthcare-related fields not realizing that the company could also have open positions in their Integrated Technology or Facilities department for which they are eligible.
With this idea in mind, Poliseno reimagined what a typical career fair looked like and turned the tables around so that instead of students visiting booths, companies and businesses visit vocational programs that align with their potential job openings.
This model allowed companies to visit vocational programs on Monday and see students in action. During this fair, students felt comfortable in their vocational settings and enjoyed sharing their knowledge with potential employers.
"The reverse career fair was a huge success for the students in the Drafting/CAD program. We had nine companies come through our door non-stop from 8:20 a.m. until the last group left at 11:05 a.m.," said Drafting/CAD teacher Mike Sheehan.
Added Criminal Justice teacher Mary Elizabeth Mack, "Our students were thoroughly engaged during the reverse career fair. They had the opportunity to learn about available jobs within the criminal justice field upon graduation. We heard from the Dedham Police Department, Norfolk Sheriff's Department, MA Department of Corrections, Massachusetts trial courts and Brewster Ambulance Service. It really offered our students perspective on where they can take their criminal justice education upon graduation."
Approximately 17 co-op opportunities have already resulted from the career fair, and the school is hoping to see more students receive co-op placements following the conversations they had with the companies that visited.
"This was our first reverse career fair event and we could not have been more excited to attend – and it was a true success! My brother Garrett and I really enjoyed meeting and interacting with the students and faculty alike," said Chris Warren from Joe Warren & Sons Co. "The format was casual yet organized which I think fits the setting really well. It's conducive to getting to know the students a bit in a comfortable and familiar environment. This was a great way to meet prospective employees and co-op candidates. We enjoyed sharing the benefits and opportunities of working in the HVAC/R industry and look forward to future career fair events."
"The career fair is a great opportunity for our students to meet with business representatives who are looking to hire, both now and in the future," Blue Hills Principal Geoff Zini said. "It is one more way that we work to give students at Blue Hills the skills and knowledge they need to be gainfully employed. We thank Ms. Poliseno for her vision to connect employers with our talented students."